HOWTO: Root the Motorola Milestone
Posted on Tue 19 January 2010 in Android
Finally: root for the milestone! Today at 00:48 am SeraphimSerapis released a modified update.zip witch roots the 2.0 firmware of the Motorola Milestone. In the following I will document the process for rooting my device. This howto is for the Milestone NOT the droid.
Step 1. Getting the update.zip
Download the update.zip from one of the following locations and rename it, when its not named update.zip yet.
Step 2. Copy the zip file
Use your usb cable to connect your phone to your computer and copy the update.zip to the root of your sd card.
Step 3. Turn off your phone
Hold the button on the top right of the device and shutdown the phone.
Step 4. Get into recovery mode
Press and hold the camera button and the power button until a sign with an exclamation mark appears. (see picture)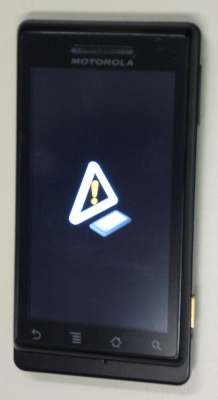 Now press the volume up and the camera button until a menu with blue text appears. The order that works best seem to be: Hold volume up and then press the camera button.
Step 5. Flash the update
In the blue menu choose (using the d-pad) "apply sdcard:update.zip" (see picture)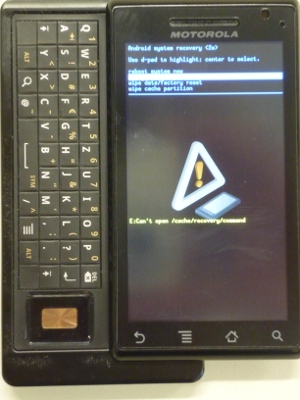 Press the golden button of the d-pad and wait. Yellow text should appear saying something like:
Rooting your device ...
Install from sdcard complete.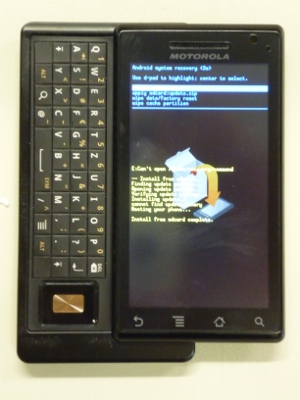 Step 6. Reboot your phone
Choose "reboot system now" from the menu and wait. After the reboot your device should be rooted. You can test this by typing "su" in a terminal emulator. Something like in the picture should pop up.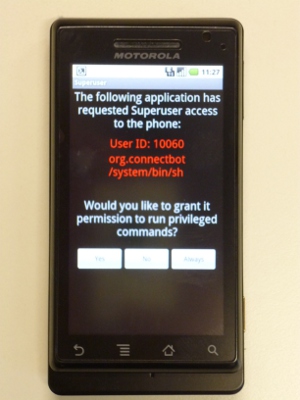 It is possible that you get errors (in my case there where none) but when you get errors the advice from the creator of the patched update is to retry the process till it works.
Root on the Milestone was made possible by:
Natron
SeraphimSerapis
nodch
Andrea
Zinx Verituse
The original howto i used is located here (in german): android-hilfe.de